Top Quotes by Famous Women

Women are these days becoming more powerful and being observed for their extraordinary work as well as for success. Here are some of the insightful quotes by popular female personalities who have been or are great role models, business leaders, entertainers, politicians, philanthropist and authors.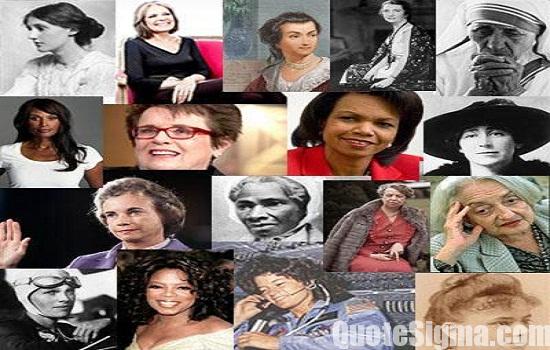 "Don't compromise yourself. You are all you've got. There is no yesterday, no tomorrow, it's all the same…. day." - Janis Joplin
"There is no royal flower-strewn path to success. And if there is, I have not found it for if I have accomplished anything in life it is because I have been willing to work hard." - Madam C.J. Walker
"Everyone has talent. What is rare is the courage to follow the talent to the dark place where it leads." - Erica Jong
"My philosophy is that not only are you responsible for your life, but doing the best at this moment puts you in the best place for the next moment." - Oprah Winfrey
"Find out who you are and do it on purpose." - Dolly Parton
"Don't limit yourself. Many people limit themselves to what they think they can do. You can go as far as your mind lets you. What you believe, remember, you can achieve." - Mary Kay Ash
"Hope is a thing with feathers, That perches in the soul; And sings the tune without words And never stops at all." - Emily Dickinson
"When one door of happiness closes, another opens; but often we look so long at the closed door that we do not see the one which has opened for us." - Helen Keller
"I am not afraid; I was born to do this." - Joan of Arc
"Remember, all the answers you need are inside of you; you only have to become quiet enough to hear them." - Debbie Ford
"I could not, at any age, be content to take my place by the fireside and simply look on. Life was meant to be lived. Curiosity must be kept alive. One must never, for whatever reason, turn his back on life." - Eleanor Roosevelt
"You only live once, but if you do it right, once is enough." - Mae West
"I really don't think life is about the I-could-have-beens. Life is only about the I-tried-to-do. I don't mind the failure but I can't imagine that I'd forgive myself if I didn't try." - Nikki Giovanni
"Passion is energy. Feel the power that comes from focusing on what excites you." - Oprah Winfrey
"I think that somehow, we learn who we really are and then live with that decision." - Eleanor Roosevelt
"We cannot change what we are not aware of, and once we are aware, we cannot help but change." - Sheryl Sandberg
"If I had to live my life again, I'd make the same mistakes, only sooner." - Tallulah Bankhead
"Define success on your own terms, achieve it by your own rules, and build a life you're proud to live." - Anne Sweeney
"If you realized how powerful your thoughts are, you would never think a negative thought." - Peace Pilgrim
"I've learned that people will forget what you said, people will forget what you did, but people will never forget how you made them feel." - Maya Angelou
"If you want the rainbow, you've got to put up with the rain." - Dolly Parton
"I don't believe in guilt, I believe in living on impulse as long as you never intentionally hurt another person, and don't judge people in your life. I think you should live completely free." - Angelina Jolie
"It is a wholesome and necessary thing for us to turn again to the earth and in the contemplation of her beauties to know of wonder and humility." - Rachel Carson
"Do one thing every day that scares you." - Eleanor Roosevelt
"It is not easy to find happiness in ourselves, and it is not possible to find it elsewhere." - Agnes Repplier
"Don't be intimidated by what you don't know. That can be your greatest strength and ensure that you do things differently from everyone else." - Sara Blakely
"It takes a great deal of courage to stand up to your enemies, but even more to stand up to your friends." - J. K Rowling
"Not all of us can do great things. But we can do small things with great love." - Mother Teresa
"Learn to get in touch with the silence within yourself and know that everything in life has a purpose." - Elisabeth Kubler Ross
"I'm tough, I'm ambitious, and I know exactly what I want. If that makes me a bitch, okay." - Madonna
"Love comes when manipulation stops; when you think more about the other person than about his or her reactions to you. When you dare to reveal yourself fully. When you dare to be vulnerable." - Dr. Joyce Brothers
"We need to accept that we won't always make the right decisions, that we'll screw up royally sometimes – understanding that failure is not the opposite of success, it's part of success." - Arianna Huffington
"Love has nothing to do with what you are expecting to get; only what you are expecting to give, which is everything. What you will receive in return varies. But it really has no connection with what you give. You give because you love and cannot help giving." - Katharine Hepburn
"It is our choices, that show what we truly are, far more than our abilities." - J. K Rowling
"Love is the only thing that we can carry with us when we go, and it makes the end so easy." - Louisa May Alcott
"The question isn't who is going to let me; it's who is going to stop me." - Ayn Rand
"Never give up, for that is just the place and time that the tide will turn." - Harriet Beecher Stowe
"I used to walk down the street like I was a super star… I want people to walk around delusional about how great they can be – and then to fight so hard for it every day that the lie becomes the truth." - Lady Gaga
"Never let a problem to be solved become more important than the person to be loved." - Barbara Johnson
"The only way to do something in depth is to work hard. The moment you start being in love with what you're doing, and thinking it's beautiful or rich, then you're in danger." - Miuccia Prada
"No one can make you feel inferior without your consent." - Eleanor Roosevelt
"I'm fearless, I don't complain. Even when horrible things happen to me, I go on." - Sofia Vergara
"People are like stained-glass windows. They sparkle and shine when the sun is out, but when the darkness sets in, their true beauty is revealed only if there is light from within." - Elisabeth Kubler Ross
"Whatever you want in life, other people are going to want it too. Believe in yourself enough to accept the idea that you have an equal right to it." - Diane Sawyer
"Pure love is a willingness to give without a thought of receiving anything in return." - Peace Pilgrim
"I learned to always take on things I'd never done before. Growth and comfort do not coexist." - Virginia Rometty
"Sometimes questions are more important than answers." - Nancy Willard
"As a leader, I am tough on myself and I raise the standard for everybody; however, I am very caring because I want people to excel at what they are doing so that they can aspire to be me in the future." - Indra Nooyi
"Success is getting what you want; happiness is wanting what you get." - Ingrid Bergman
"Take criticism seriously, but not personally. If there is truth or merit in the criticism, try to learn from it. Otherwise, let it roll right off you." - Hillary Clinton
"The future belongs to those who believe in the beauty of their dreams." - Eleanor Roosevelt
"The most common way people give up their power is by thinking they don't have any." - Alice Walker
"The greater your capacity to love, the greater your capacity to feel the pain." - Jennifer Aniston
"Courage is like a muscle. We strengthen it with use." - Ruth Gordon
"The more anger towards the past you carry in your heart, the less capable you are of loving in the present." - Barbara De Angelis
"If you obey all the rules, you miss all the fun." - Katharine Hepburn
"The minute you settle for less than you deserve, you get even less than you settled for." - Maureen Dowd
"There came a time when the risk to remain tight in the bud was more painful than the risk it took to blossom." - Anais Nin
"To be kind to all, to like many and love a few, to be needed and wanted by those we love, is certainly the nearest we can come to happiness." - Mary Stuart
"You may be disappointed if you fail, but you are doomed if you don't try." - Beverly Sills
"The soul should always stand ajar. Ready to welcome the ecstatic experience." - Emily Dickinson
"Our deepest wishes are whispers of our authentic selves. We must learn to respect them. We must learn to listen." - Sarah Ban Breathnach
"The thing that is really hard, and really amazing, is giving up on being perfect and beginning the work of becoming yourself." - Anna Quindlen
"You take your life in your own hands, and what happens? A terrible thing: no one to blame." - Erica Jong
"Though I am grateful for the blessings of wealth, it hasn't changed who I am. My feet are still on the ground. I'm just wearing better shoes." - Oprah Winfrey
"The most effective way to do it, is to do it." - Amelia Earhart
"We all live with the objective of being happy; our lives are all different and yet the same." - Anne Frank
"Never limit yourself because of others' limited imagination; never limit others because of your own limited imagination." - Mae Jemison
"You gain strength, courage and confidence by every experience in which you really stop to look fear in the face. You are able to say to yourself, "I lived through this horror. I can take the next thing that comes along." You must do the thing you think you cannot do." - Eleanor Roosevelt
"The truth will set you free, but first it will piss you off." - Gloria Steinem
"You know it's love when all you want is that person to be happy, even if you're not part of their happiness." - Julia Roberts
"We realize the importance of our voices only when we are silenced." - Malala Yousafzai
"You never find yourself until you face the truth." - Pearl Bailey
"A woman is the full circle. Within her is the power to create, nurture and transform." - Diane Mariechild
"You never lose by loving. You always lose by holding back." - Barbara De Angelis
Exceeding were some of the best quotes by well known women in the world, we hope that you must have enjoyed reading them.