Great Quotes on Sachin Tendulkar
Sachin Ramesh Tendulkar, a normal guy form Mumbai, who started playing for Indian team when he was just 16 years old. He soon become the Master Blaster Player and was addressed by the same as a prefix to his name. He is one of those classy players who are an idle to each and every youngster who desire to be a cricketer. Sachin Tendulkar is said to be "The God of Cricket". Below are some of the outstanding thought by other well known cricketers on his achievements.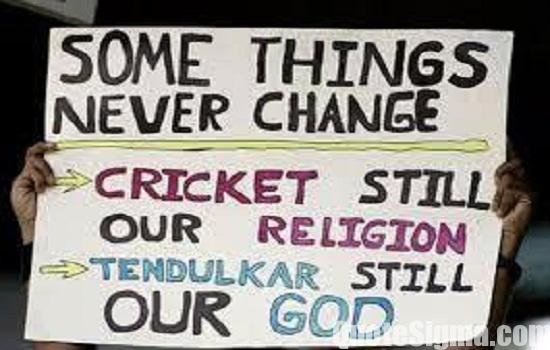 "Sachin Tendulkar has carried the burden of the nation for 21 years. It is time we carried him on our shoulders" - Virat Kohli
"Sachin is cricket's God" - Barry Richards
"I am fortunate that I've to bowl at him only in the nets!" - Anil Kumble
"I saw him playing on television and was struck by his technique, so I asked my wife to come look at him. Now I never saw myself play, but I felt that this player is playing with a style similar to mine, and she looked at him on Television and said yes, there is a similarity between the two…his compactness, technique, stroke production – it all seemed to gel!" - Sir Donald Bradman
"Harder he works, the luckier he gets" - Ian Chappell
"We did not lose to a team called India. We lost to a man called Sachin" - Mark Taylor
"I have seen God, he bats at no. 4 for India" – Matthew Hayden
"India me aap Prime Minister ko ek baar katghare me khada kar sakte hain. Par Sachin Tendulkar par ungli nahi utha Sakte." - Navjot Singh Sidhu
"He is a perfectly balanced batsman and knows perfectly well when to attack and when to play defensive cricket. He has developed the ability to treat bowlers all over the world with contempt and can destroy any attack with utmost ease" - Greg Chappell
"I'll be going to bed having nightmares of Sachin just running down the wicket and belting me back over the head for six. He was unstoppable. I don't think anyone, apart from Don Bradman, is in the same class as Sachin Tendulkar. He is just an amazing player" - Shane Warne
"There are 2 kind of batsmen in the world. One Sachin Tendulkar. Two all the others" - Andy Flower
"He has defined cricket in his fabulous, impeccable manner. He is to batting what Shane Warne is to bowling" - Richie Benaud
"I think he is marvellous. I think he will fit in whatever category of Cricket that has been played or will be played, from the first ball that has ever been bowled to the last ball that's going to be. He can play in any era and at any level. I would say he's 99.5% perfect" - Viv Richards
"If I've to bowl to Sachin, I'll bowl with my helmet on. He hits the ball so hard" - Dennis Lillee
"Sachin is a genius. I'm a mere mortal" - Brian Lara
"India's fortune will depend on how many runs the little champion scores. There is no doubt Tendulkar is the real thing" - Sunil Gavaskar
"What we need is 10 Tendulkars" - Paul Strang                                          
"Sachin Tendulkar has often reminded me of a veteran army colonel who has many medals on his chest to show how he has conquered bowlers all over the world" - Allan Donald
"Don't bowl bad balls he hits the good ones for fours" - Michael Kasprowicz
"On a train from Shimla to Delhi, there was a halt in one of the stations. The train stopped by for few minutes as usual. Sachin was nearing century, batting on 98. The passengers, railway officials, everyone on the train waited for Sachin to complete the century. This Genius can stop time in India!" - Peter Roebuck
"He has been in form longer than some of our guys have been alive" - Daniel Vettori
"I was fielding in the covers when Tendulkar came out to bat in his debut Test at Karachi. I still remember Waqar Younis was in peak form at that time. Tendulkar tried to drive Waqar through the covers off his very first ball in Test cricket but was beaten all ends up. But I walked to captain Imran Khan and told him 'this kid looks very good' and Imran agreed with me" - Abdul Qadir
"When you bowl at him you are not just trying to get him out, you are trying to impress him. "I want him to walk off thinking 'that Flintoff, he's all right isn't he?" I feel privileged to have played against him" - Andrew Flintoff
"I have joked before that there is a good chance that I might retire before Tendulkar" - Mahendra Singh Dhoni
"You might pitch a ball on the off stump and think you have bowled a good ball and he walks across and hits it for two behind midwicket. His bat looks so heavy but he just waves it around like it's a toothpick." - Brett Lee
"Nothing bad can happen to us if we're on a plane in India with Sachin Tendulkar on it" - Hashim Amla
"Today, he showed the world why he is considered the best batsman around. Some of the shots he played were simply amazing. Earlier, opposing teams used to feel that Sachin's dismissal meant they could win the game. Today, I feel that the Indian players, too, feel this way" - Wasim Akram
"To me he will not just be remembered as a great player and a lovely human being, but as somebody who tried to learn Bengali for the last 14 years but never managed to do so!" - Sourav Ganguly
"With Sachin Tendulkar and Brian Lara, it was better to be friends and make them smile rather than wind them up" - Shane Warne
"Sachin was so focused. He never looked like getting out. He was batting with single-minded devotion. It was truly remarkable. It was a lesson" - Martina Navratilova
"Technically, you can't fault Sachin. Seam or spin, fast or slow nothing is a problem" - Geoffrey Boycott
"We have started calling him grandfather" - Yuvraj Singh
"The archives recall not one single incriminating incident, not one drunken escapade, not one reported affair, not one spat with a team-mate or reporter - As Matthew Parris wondered of Barack Obama in these pages recently, is he human?" - Michael Atherton
"The more I see of him the more confused I'm getting to which is his best knock" - ML Jaisimha
"The thing I admire most about this man is his poise. The way he moves, elegantly without ever looking out of place in any condition or company, suggests his pedigree" - Bishan Singh Bedi
"He can play that leg glance with a walking stick also" - Waqar Younis
"Playing in the same team as Sachin is a huge honour. His balance of mind, shrewd judgment, modesty and, above all, his technical brilliance make him my all-time hero. You can't get a more complete cricketer than Sachin. He has everything that a cricketer needs to have" - Rahul Dravid
"I never coached Sachin Tendulkar, I gave him gentle advice when he asked for it" - John Wright
"The thing I like the most about Sachin is his intensity. After being in the game for so long, he still has the same desire to do well for India in any international match. I tell you what, this man is a legend." - Sourav Ganguly
"In terms of technique and compactness, Sachin Tendulkar is the best" - Desmond Haynes
"Test cricket is bloody hard work, especially when you've got Sachin batting with what looks like a three-metre-wide bat" - Michael Hussey
"I had to remind Gary Kristen often that he was in the covers to field against Sachin not to applaud him"- Hansie Cronje
"You can never say that he is out of form. He is a volcano waiting to explode and we hope he doesn't do that against us in the one-dayers" - Daryl Tuffey
"In an over I can bowl six different balls. But then Sachin looks at me with a sort of gentle arrogance down the pitch as if to say,'Can you bowl me another one?'" - Adam Hollioake
"I never get tired when Sachin is at the crease" - Rudi Koertzen, Umpire
"What I admire about Sachin is his humility, respect for elders and the passion for the game that he has retained even after so many years and after achieving so much in cricket. He has not changed at all" - Dilip Vengsarkar
"Technically he stands out as the best because of his ability to increase the pace at will" - David Boon
"The joy he brings to the millions of his countrymen, the grace with which he handles all the adulation and the expectations and his innate humility – all make for a one-in-a-billion individual" - Glenn McGrath
"Sachin Tendulkar is, in my time, the best player without doubt – daylight second, Brian Lara third" - Shane Warne
"His humbleness and simplicity has helped him to achieve what others could not. His dedication is one of the main reasons for his achievements and he is role model to up and coming youngsters. In India, every youngster who is in to school or college cricket wants to become a Sachin" - Krishnamachari Srikkanth
"Very sorry to disappoint you, guys. It was not for my girlfriend but for Sachin Tendulkar" - Yuvraj Singh
"He continues to give more than 100 per cent and his schoolboy-like enthusiasm for the game is something I envy and admire. For the team he is the best available coaching manual" - Mahendra Singh Dhoni
"Sachin is the greatest role model I've ever met" - Gary Kirsten
"The pressure on me is nothing compared to Sachin Tendulkar. Sachin, like God, must never fail. The crowd always expects him to succeed and it is too much pressure on him. But, he rarely disappoints them" - Mark Waugh
"Sachin is the Kohinoor diamond of the game of cricket. This cricketer has unmatched talent and you can't find another Tendulkar ever" - Ajit Wadekar
"He is Sachin Tendulkar. I hope he stays Sachin Tendulkar. We need a new player, a player in his own way. He has a technique which is the hallmark of a great player. Everything indicates that he will be a great player and I am sure he will prove me right. Reminds me of Barry Richards" - Eddie Barlow
"I dont know what to bowl at him. I bowled an inswinger and he drove me through covers of the front foot. Then I bowled an outswinger and he again punched through covers of the backfoot. He is the toughest batsmen I've bowled to. He shold live long and score lots of runs, but not against Pakistan" - Wasim Akram
"Sachin is the greatest player I have seen. I consider it an honour to have rubbed shoulders with him" - Brian Lara
"I don't think any batsman can be better than Tendulkar, not even Bradman. Sachin has succeeded in all the three forms of cricket – Test, one-dayer and Twenty20" - Ajit Wadekar
"I have watched a lot of Tendulkar and we have spoken to each other a lot. He has it in him to be among the very best" - Sir Garfield Sobers
"He must be the most singlehanded devotee cricket has ever seen. Cricket has taken up so much of his life that at times you would wonder what is he going to do once he gives up the game" - Greg Chappell
"When we used to play, we thought no one can break Sunil Gavaskar's record. No one could think about 50 Test centuries at that time. This is certainly a big knock under the circumstances, better than the 200s and 300s" - Kapil Dev
"Sachin Tendulkar is already a 'Bharat Ratna' for Indian people because of his phenomenal success and the manner in which he has served Indian cricket for years" - Rahul Dravid
"Tendulkar is a world class player and a great ambassador for the game. As a youngster I watched the games and that's where all my dreams started. You watch Tendulkar on TV and you think that I want to be like that one day" - Graeme Smith
"He has reached the pinnacle of his cricketing career and I am sure his hunger for runs is still there. He has been achieving milestones, one after another, and it is beyond any cricketer's calibre to match Sachin's feat" - Syed Kirmani
"This was expected. This is one of the finest achievements in cricket history. It is a fantastic performance by Sachin. Records do not matter to him. He will keep playing and records will follow him" - Chandu Borde
"Well, it's such a record that you can only compare it with Bob Beamon's long-jump world record set in the 1968 Olympics in Mexico. At that time it seemed that it would never be broken. Tendulkar's 50 Test centuries is one such records which doesn't look like being surpassed" - Sunil Gavaskar
"It was clear to us even when he walked out to bat in that Test as a teenager that he had talent. The fact that he has been around for 21 years and done justice to that god gifted talent in both forms of the game is an achievement any cricketer would be proud off. It will be difficult for anyone to break his record" - Javed Miandad
"I think it is just the way he has changed the game overall and his own game because there are so many situations he has faced. He is now competing mostly against himself, like most great cricketers do. I think he has mastered all of them. The only challenge he has is to beat himself every time he walks out there because he has done almost everything" - Kumar Sangakkara
"Sometimes, you get so engrossed in watching batsmen like Rahul Dravid and Sachin Tendulkar that you lose focus on your job." - Yasir Hameed
"To Sachin, the man we all want to be." - Andrew Symonds
We hope that you must have enjoyed the above thoughts on the Master Blaster Sachin Tendulkar by some of the great cricketers.