Best Valentine's Day Quotes
Saint Valentine's Day is also known as the Feast of Saint Valentine but this day is well known as Valentine's Day. This day is celebrated in many countries all over the globe on the 14th of February. Many play writers, authors and poets have captured love in their work in different ways. Here are some of the beautiful Valentine's Day Quotes that you can share with your loved ones.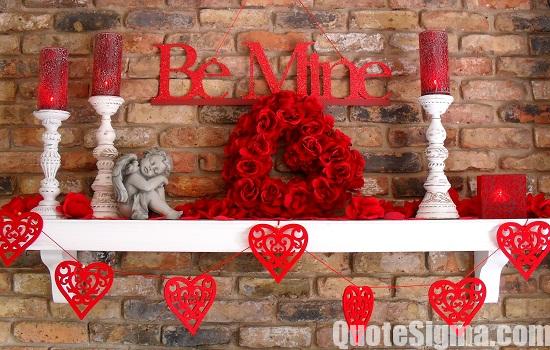 "Each moment of a happy lover's hour is worth an age of dull and common life." - Aphra Behn
"Love is composed of a single soul inhabiting two bodies." - Aristotle
"You know you're in love when you can't fall asleep because reality is finally better than your dreams." - Dr. Seuss
"Being deeply loved by someone gives you strength, while loving someone deeply gives you courage." - Lao Tzu
"Love is the condition in which the happiness of another person is essential to your own." - Robert Heinlein
"My bounty is as boundless as the sea, My love as deep; the more I give to thee, The more I have, for both are infinite." - William Shakespeare
"The art of love… is largely the art of persistence." - Albert Ellis
"The best and most beautiful things in the world cannot be seen or even touched. They must be felt with the heart." - Helen Keller
"For you see, each day I love you more, today more than yesterday and less than tomorrow." -Rosemonde Gerard
"How do I love thee? Let me count the ways." - Elizabeth Barrett Browning
"For it was not into my ear you whispered, but into my heart. It was not my lips you kissed, but my soul." - Judy Garland
"Friendship at first sight, like love at first sight is said to be the only truth." - Herman Melville
"If I could be anything in the world I would want to be a teardrop because I would be born in your eyes, live on your cheeks, and die on your lips." - Anonymous
"Doubt that the stars are fire; Doubt that the sun doth move; Doubt truth to be a liar; But never doubt I love." - William Shakespeare
"Love is something eternal; the aspect may change, but not the essence." - Vincent van Gogh
"Love is a canvas furnished by Nature and embroidered by imagination." - Voltaire
"A life without love is like a year without summer." - Swedish Proverb
"Love is the child of illusion and the parent of disillusion." - Miguel de Unamuno
"Love is a promise, love is a souvenir, once given never forgotten, never let it disappear." - John Lennon
"Love is the expression of simplicity in emotion, the unattainable longing that comes so unexpectedly, with great subtlety and bliss." - Luen Dao
"A true lover always feels in debt to the one he loves." - Ralph W. Sockman
"A hundred hearts would be too few, To carry all my love for you." - Anonymous
"Love is a symbol of eternity. It wipes out all sense of time, destroying all memory of a beginning and all fear of an end." - Anonymous
"Time is too slow for those who wait, too swift for those who fear, too long for those who grieve, too short for those who rejoice, but for those who love, time is eternity." - Henry Van Dyke
"Trip over love, you can get up. Fall in love and you fall forever." - Anonymous
"Love is a game that two can play and both win." - Eva Gabor
"Anyone can catch your eye, but it takes someone special to catch your heart." - Anonymous
"I've fallen in love many times… always with you." - Anonymous
"Love is a smoke made with the fume of sighs." - William Shakespeare
"Love is missing someone whenever you're apart, but somehow feeling warm inside because you're close in heart." - Kay Knudsen
"Love is just a word until someone comes along and gives it meaning." - Anonymous
"Sometimes we make love with our eyes. Sometimes we make love with our hands. Sometimes we make love with our bodies. Always we make love with our hearts." - Anonymous
"The minute I heard my first love story I started looking for you, not knowing how blind that was. Lovers don't finally meet somewhere. They're in each other all along." -Jalal ad-Din Rumi
"I never knew how to worship until I knew how to love." - Henry Ward Beecher
"Life's greatest happiness is to be convinced we are loved." - Victor Hugo
"What I need to live has been given to me by the earth. Why I need to live has been given to me by you." - Anonymous
"Love is the only gold." - Lord Alfred Tennyson
"To love another person is to see the face of God." - Les Miserables
"To love is to receive a glimpse of heaven." - Karen Sunde
"To the world, you may be one person, but to one person you may be the world." - Bill Wilson
"Oh, if it be to choose and call thee mine, love, thou art every day my Valentine!" - Thomas Hood
"In true love the smallest distance is too great, and the greatest distance can be bridged." - Hans Nouwens
"When love is not madness, it is not love." - Pedro Calderon de la Barca
"If I know what love is, it is because of you." - Herman Hesse
"Gravitation is not responsible for people falling in love." - Albert Einstein
"Love that we cannot have is the one that lasts the longest, hurts the deepest and feels the strongest…" - Mirela
"Many are the starrs I see, but in my eye no starr like thee." - English saying used on poesy rings
"Love is not finding someone to live with; it's finding someone you can't live without…" - Rafael Ortiz
"Loving is not just looking at each other, it's looking in the same direction." - Antoine de Saint-Exupery
"My love for you is my life; My life is all love for you." - A. Ferron
We hope that you must have enjoyed reading and sharing the above Valentine's Day Quotes.