Irrespective of the age and time, Karva chauth is something that sets a different glory for love apart from the valentine's day. Well I can say that festival is one of the few that every married women or a women in love will cherish.
So if you are awaiting the beautiful day of Karva chauth, you can surely leave these quotes for your better half and make them feel all the more special.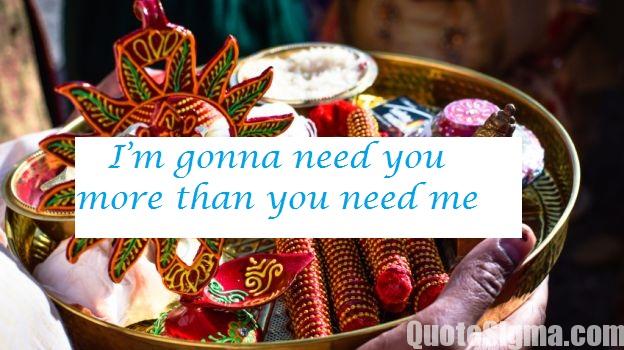 And if you're a husband and reading this, probably this is the least you can do and grab a quote for her from here.
Take a look for our collection for the best quotes for karva chauth and karva chauth quotes.
Karva chauth quotes
I'm gonna need you more than you need me
Find my hand in the darkness and if we cannot find the light, we will always make our own
Two souls are sometimes created together and in love before they're born
And now that you don't have to be perfect you can be good
I would set myself on fire if you ever complained that your feet were cold
Giving someone a piece of your soul is better than giving a piece of your heart. Because souls are eternal
You come to love not by finding the perfect person, but by seeing an imperfect person perfectly
The love we were promised in fairy tales was never something for us to find. It has always been something for us to create
There's a light in you and it makes me never fear the darkness in me
The world only exists in your eyes. You can make is as big or as small as you want
You are mysterious. I love you. You're beautiful, intelligent, and virtuous, and that's the rarest known combination
There are all kinds of love in this world but never the same love twice
You are the finest, loveliest, tenderest, and most beautiful person I have ever known and even that is an understatement
I love her and that's the beginning of everything
No amount of fire or freshness can challenge what a man will store up in his ghostly heart
I'm yours and you know it
And from across the crowded room I saw you smile only at me!
I fell in love the way you fall asleep slowly and then all at once
I love the stolen seconds of a stunning us and I love the way your eyes light up when they look at mine. I love the way your parentheses of you smile almost become quotation marks when they are stretching out for me
Start it out, there's nothing soon to be the movement of our stars
I'll hold you in my heart, till I can hold you in my arms
Nothing in this world worth having comes easy
No great love ever came without great struggle
As I stare Wondering just how you are. While I wonder As I stare and I sit I know I'll see Your face again
It's dark now and I am very tired. i love you always. Time is nothing
Without pain how could we know Joy?
Love will travel as far as you let it. It has no limits
We won't be separated forever so until then let's stay strong together